Vivitek launches Qumi Q38 FULL HD 1080P Smart Projector to bring the large screen experience to any place
Hoofddorp, the Netherlands, March, 2018 - Vivitek, a leading brand of visual display products, has announced the expansion of its popular Qumi series of industry leading LED Pocket projectors, with the introduction of the Qumi Q38. Set to enhance the large-screen experience, the portable Qumi Q38 joins the successful Qumi Q3 Plus, Q6 and Q8.


The Q38 is set to deliver even bigger and better performance to consumers, as it offers the largest projection display size yet in 1080p resolution from a projector this small. The Qumi Q38 boasts full flexibility with the embedded battery that lasts up to two hours, while the built-in wireless connection delivers a truly cable-free projection solution for any setting.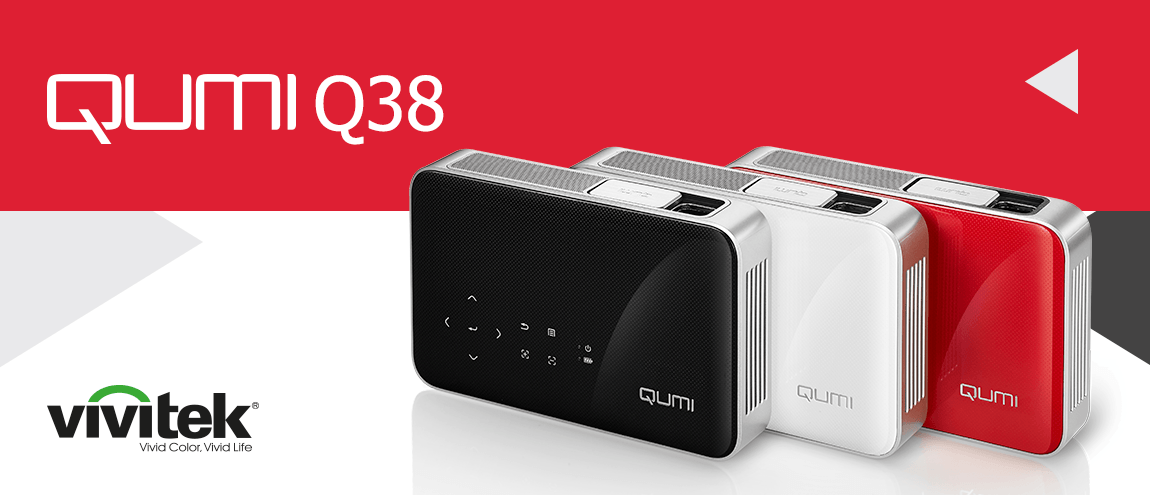 Weighing just under 750g, and featuring a slim and lightweight design, the Q38 projector can be easily carried around in a handbag, briefcase or backpack. With a sleek minimalistic design and available in three colours - red, black and white - the projector is stylish enough to be suitable for a range of settings whether at home, at a garden party or even at work.


With the Qumi Q38, customers can now share and enjoy the large-screen experience with even more friends and family, playing games, watching videos, or displaying other high-definition content, thanks to a diagonal projection of up to 130" and full HD resolution. Its performance is aided by 600 Lumens brightness, 10,000:1 contrast ratio, along with its 30,000 hours LED light-source lifetime. Additionally, there are integrated dual-2w speakers, as well as the option to pair the device via Bluetooth to a compatible sound system. Together, those features all help to amplify the large-screen viewing experience, while bringing content to life.
What's more, the Qumi Q38 features a built-in wireless connection that enables users to seamlessly connect to the web and project Full HD digital content. For those who prefer to project directly from the projector, easy access to online streaming content provider apps is possible, enabling users to watch movies or television shows via services such as Netflix™ and YouTube™, using a smartphone as a hotspot. Similarly, the projector's PC-Free Reader enables users to preload media and document files onto the projector's internal 8GB memory (5GB user availability), or to display content via a connected USB memory drive.
Commenting on the introduction of the Qumi Q38, Holger Graeff, General Manager, Vivitek EMEA, said: "The Qumi Series is one of our signature product ranges, and the newest addition to the range continues to show the improved technical advancements and projector innovations that Vivitek is known for. The ability to give customers solutions that project on to a bigger screen size at a high quality resolution, while featuring an embedded battery and light weight design, are all factors that have been designed with our customers' needs and requirements in mind."
Key features / Specifications
Highly portable thanks to thin streamlined design, lightweight size and an embedded battery that lasts up to two hours
Screen size up to 130" diagonal projection and 1080p resolution
Built-in wireless connection to mirror iOS or Android smartphones and tablets, as well as Windows and Mac OS personal computers.
Preloaded premium application store offers a wide range of popular apps and games for download and customization of the Q38
PC-Free Reader to preload media and document files onto the Q38
Maintenance free projector thanks to lampless design with environmentally friendly LED illumination source lasting up to 30,000 hours
Texas Instruments' DLP® chip technology
Advanced Quad-Core CPU running and Android™ operating system
Assortment of connectivity options for easy connection to a notebook, smartphone, tablet, camera, game console and more
Delta supplies and assists in the integration and customization of visual displays and interactive technologies to meet customers' needs. For instance, recently Delta provided the Port Columbus International Airport with two giant LED display boards with full HD resolution to present flight information from multiple airlines in real time. The displays are also used to notify travelers of emergency announcements, baggage information and commercial promotions. The LED display board, which measures to more than 44 feet (13.44 meters) in width and 14 feet (4.32 meters) in height, uses 252 LED modules for a total resolution of 4,480x1,440 pixels.


About Vivitek
Vivitek, a brand of Delta, manufactures an extensive line of visual display and presentation products. Vivitek's line of digital projection and display products incorporates the latest innovations and technologies to meet the market demands for education, business, home theater and large venue.



About Delta
Delta, founded in 1971, is a global leader in power and thermal management solutions and a major player in several product segments such as industrial automation, displays, and networking. Its mission statement, "To provide innovative, clean and energy-efficient solutions for a better tomorrow," focuses on addressing key environmental issues such as global climate change. As an energy-saving solutions provider with core competencies in power electronics and innovative research and development, Delta's business domains include Power Electronics, Energy Management, and Smart Green Life. Delta has 153 sales offices, 60 R&D centers and 38 manufacturing facilities worldwide.
Throughout its history, Delta has received many global awards and recognition for its business achievements, innovative technologies and dedication to corporate social responsibilities. Since 2011, Delta has been selected as a member of Dow Jones Sustainability™ World Index (DJSI World) for 5 consecutive years. In 2014, Delta is ranked by CDP (formerly the Carbon Disclosure Project) at the highest A-level of the Climate Performance Leadership Index (CPLI), and is the only company from nearly 2,000 listed companies in Greater China to make the CPLI list.
For more information about Delta, please visit
www.deltaww.com